Domaine Du Mont d'Or

Domaine du Mont d'Or occupies the southern flank of Montorge hill at the western entrance to Sion – the opposite side of the city to the Valère and Tourbillon hills. The estate covers 24 hectares, consisting of numerous dry-stone-wall terraced vineyards. The altitude and aspect of each terraced plot dictate where each grape varietal is planted.
As one of Switzerland's most prestigious vineyards, the estate's southern exposure makes it ideal for sweet white wines. Mont d'Or pioneered the production of late-harvested sweet wines in Switzerland, earning great renown for its Johannisberg and other specialities from 1848 onwards.
Each bottle adorned with the Mont d'Or label speaks eloquently of this magnificent, unique property. Each wine is the perfect synthesis of grape varietal and terroir, offering pleasure to lovers of noble, authentic crus.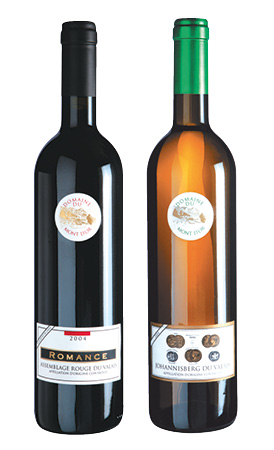 Contact information :
Domaine Du Mont d'Or
Rue de Savoie 64 - CP 415 - 1951 Sion, Switzerland
+41 27 346 20 32