Niklaus Wittwer

The great passion to produce my own wines took hold after I had taken over the running of a wine distribution business in the vicinity of Bern from my father. I was finally able to realise this vision in 1990 with the purchase of a few square metres of vineyard in Sion. The foundation stone had now been laid.
Today, my passion, love for and commitment to the independent production of wines that exhibit individual character remains undiminished. Maintaining a deep respect for nature, the terroir and the people who help me to make wine, I endeavour to produce what I regard as the best from the grapes that grow on 7 hectares of vineyards in prime central Valais locations such as Les Corbassières, Lentine in Sion and others.
The creation of blends like 3x3 Rot, 3x3 Weiss, Mon Blanc and Mon Rouge and well as varietal specialities has been a source of particular fascination for me.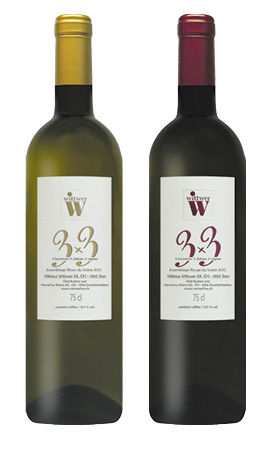 Contact information :
Niklaus Wittwer SA
Case Postale - 1950 Sion, Switzerland
+41 79 302 10 00