Cave Christophe Jacquod

Representing the second generation of his family to grow wine, Christophe Jacquod puts all his heart and expertise into caring for his vineyards and producing high-quality wines that reflect their terroir. The vintner cultivates all his vines in accordance with integral production standards – an environmentally friendly, quality-focused method of working. Wife Sylviane provides sterling support. Besides creating a white-wine cuvée every year, she helps out with wine tastings and coordinates the harvest outside in the vineyard.
The small family estate covers four hectares – red varietals mainly within the municipality of Sion, white varietals on the slopes of St-Léonard. Diverse soils and exposures provide ample expression to a variety of styles. Respecting the integrity of each and every cru, Christophe Jacquod produces his highly authentic range at a modern winery situated among the vines of Bramois.
Jacquod's most sophisticated wines ages for months in small oak barrels and old traditional casks in a vaulted cellar dating back to the 13th century in the old heart of the village. Visitors are welcome to visit the winery and acquaint themselves with as many as 15 different wines.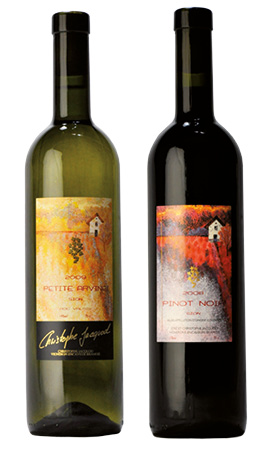 Contact information :
Cave Christophe Jacquod
Rte de la Croix-de-Corban 4 - 1967 Bramois, Switzerland
+41 79 293 54 72