Bonvin Les domaines 1858

"Timeless wines from human hands"
Swiss Winery of the Year at the Grand Prix du Vin Suisse in 2014, Bonvin 1858 is the oldest wine establishment in Valais. The property has done much for the reputation of AOC Valais wines.
The Bonvin 1858 estate comprises 23.5 hectares of vineyard on the best slopes overlooking Sion – south-facing terraced land with dry calcareous schist soils, producing wines of pronounced minerality.
Exceptional terroir along with human input – in terms of viticultural techniques to maintain natural balance, as well as the use of cutting-edge winemaking facilities – account for the success of this aptly named property.
Following in the footsteps of their pioneering predecessors, the Bonvin 1858 team foster their expertise in lending a personal touch to a business going from strength to strength.
You can meet some of these friendly people at Guérite Brûlefer and Les Mazots du Clos du Château – two Bonvin 1858 venues situated amid the vines.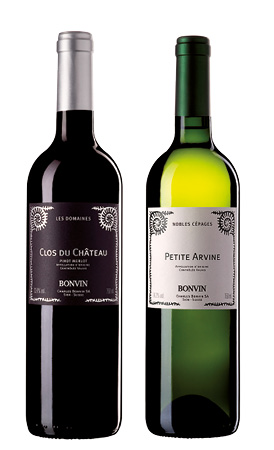 Contact information :
Bonvin 1858 Les Domaines
Route d'Italie 9, 1950 Sion 4, Suisse
+41 27 203 41 31